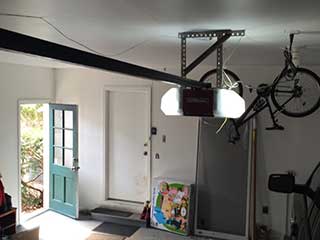 An electro-mechanical system as complex as your automatic garage door needs to undergo regular maintenance in order to fulfill its full potential. To make sure this is done correctly, you'd best reach out to our professional technicians. We have over two decade's worth of experience servicing systems of this type, and we can ensure that your door remains safe and efficient.
Spring Lubrication and Adjustment
One of the main focuses of our service appointments are the springs. Our team will inspect every inch of their coils and make sure they are well adjusted and aren't overstraining. We'll also apply them with the right type of lubricant to reduce their noise output and increase their smoothness and efficiency.
Safety Sensors Testing
Your garage door opener relies on two photo-electric eyes in order to keep your door from closing down on a person or an object that's blocking its path. However, if these sensors become misaligned, their performance can be compromised, which will make your door unsafe to use. Our technicians will test these components to make sure they are working well, and we'll realign them if we find that they're no longer positioned correctly. These are delicate components; therefore, they must be treated with great skill and care.
Prevention Beats Treatment
One of the main benefits of having your door system undergo regular maintenance is a monetary one. By letting our team take care of any minor issue before it develops into something major, you'll be able to save money on more costly repairs down the line. Not only that, but your door's different features will continue to function properly, and its security and insulation qualities won't become compromised.
All You Need To Do Is Call
Our team at Garage Door Repair Scarsdale is always ready to answer any questions you may have. We can fit ourselves into your schedule, and make the experience a very pleasant one. Contact us today to set up an appointment.
But wait, there's more! We also offer:
Garage Door Tune Up Services
Genie & Liftmaster Opener Repairs
Extension Spring Adjustment
Roll up Garage Door Maintenance