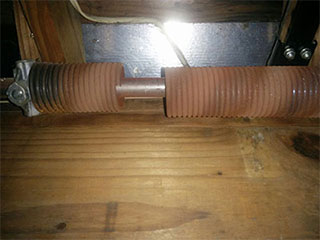 The springs play a vital role in ensuring the smooth performance of your garage door. Since they support its weight and pull it up when it needs to open, they can develop a considerable amount of wear and tear over time. Our team at Garage Door Repair Scarsdale can help you when something goes wrong with them, as well as make them last for as long as they possibly can.
Let Our Experts Handle It
Our skilled technicians have years of experience when it comes to solving problems related to garage door springs. Our team has the expertise necessary to tackle any issue you're experiencing with torsion and extension springs, which are the two main types that are most commonly used today. We provide a speedy and efficient service and our technicians will arrive with all the equipment needed to carry out the necessary replacement or adjustment work on the spot.
Learn To Recognize Common Problems
Damaged springs are dangerous and must be taken care of as soon as possible to prevent further damage to the system and to ensure the safety of anyone in the immediate vicinity, which is most likely you and your family members. There are several telltale signs that can let you know something is definitely wrong with these dangerous components. You may notice that your door is off-balance, which could happen if the tension of one of them doesn't match the other. This will cause the door to tilt and might also cause jerky movements while it's in motion. If the springs are worn and are unable to support the weight of the panels properly, you may notice the door dropping faster than it should. Another example is the impossible to ignore BANG that you'll hear resonating from inside your garage. That is the sound a spring makes when it breaks. You'll find that your door will be impossible to lift afterwards.
Contact Us Today
If you notice one of these signs or any other problem, call us immediately and we'll send a technician to take a look and make the necessary repairs.
Want more? Let us take care of:
Part Replacement & Repair
Opener Sensor Replacement
Oil Tempered Torsion Springs
Roll Up Garage Door Services