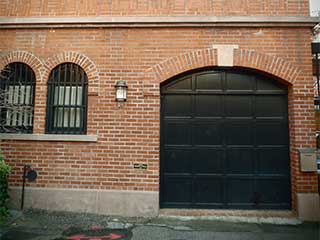 Homeowners have a huge selection to choose from when picking out a replacement door. It helps to have a little basic knowledge beforehand before you start picking out your new door, so we've broken down the 3 main types of material below for you.
Metal Doors - Strong, Secure and Durable
Metal doors are very sleek and modern-looking. They feature heavily in cutting-edge home renovations and are a very popular choice amongst new homeowners. In addition, metal is a fairly low-maintenance material; it requires little in the way of adjustment or cleaning, and is perfect for low-maintenance households. They're tough, too, and very difficult to break.
However, metal doors are also prone to denting and scratching. This cosmetic damage can be irritating if you've invested in a brand-new door, and can also be difficult to fix without specialist tools. Metal doors are generally poor insulators, but it is possible to add aftermarket insulation to a metal door without too much trouble.
Wooden Doors – Older World Appeal
Wooden garage doors can add a real sense of class to any home, and these highly attractive doors are becoming hugely popular. In many cases these doors are designed to resemble old-fashioned carriage gates, conjuring up romantic images of older-world lifestyles. These doors aren't just attractive, they're also very practical; wood is more resistant to cosmetic damage than metal, and is easier to repair. It's also a lot easier to work with wood, and it can be easily repainted if you decide a different color would suit your home better.
On the other hand, wooden doors require more maintenance than others. They'll need to be treated regularly to retain their appealing appearance and weatherproofing ability. In addition, wooden doors are very heavy - this can require a bigger, more expensive support and opening system.
Plastic Doors - Flexible and Affordable
Possibly the most common garage door material, plastic comes in an enormous variety of different varieties. This gives homeowners many options to choose from, from wood-effect to any number of colors and textures. Plastic is weather resistant, affordable and light, and makes for a great door material.
Some homeowners find that plastic doors don't quite suit the design aesthetic of their homes, however. In addition, while plastic doors are tough, they are almost impossible to repair if they are damaged - it's usually more economical to replace them.
If you still have questions about which door material would work best in your home, just give us a call at Garage Door Repair Scarsdale. We'll be glad to talk through your options with you!